NAMI Vermont MINDWalk 2019
September 28, 2019 @ 1:00 pm

-

4:00 pm
2019 NAMI Vermont MINDWalk
Saturday, September 28, 2019
NEW LOCATION! First Unitarian Universalist Society
(top of Church Street at 152 Pearl Street, Burlington)
Registration/Check In Starts at 12 pm
Walk Begins at 1 pm
NAMI Vermont's MINDWalk is an annual event that raises money for free mental health programs all over the state. For over a decade, NAMI's Walks have been the biggest stigma stomping party in Vermont, giving individuals, family members and the community a voice on mental illness and its many challenges.
Registration is NOW OPEN!
If you plan to join a team or form your own team – or you just want to make a general donation to our biggest fundraiser and outreach event of the year – click on this button:
Registration, like all of NAMI Vermont's programs, is free and open to the public. And while we welcome your fundraising efforts, it's not required to participate in this event. Your presence is important to us! Join us in bringing awareness to mental health!
Please note that a waiver is required the day of the event if you do plan to walk with us. We do not have an option this year in our online fundraising platform to include this waiver. We will have waivers for all of our walkers to sign during check in/registration at the event on September 28.
Need help getting registered and your team page started?
Below is a list of downloadable materials that you can use to help you get started on your fundraising journey. The first item on the list are step-by-step instructions for setting up your fundraising page online.
If you would like other materials like team business cards, MINDWalk posters, collection envelopes, receipts and more, fill out a materials form and send it back to walk@namivt.org or mail to 600 Blair Park Road, Suite 301, Williston ,VT, 05495.
You can download the 2019 MINDWalk Materials List Here.
Unable to join us the day of the event or unable to walk at the event?
We would still love your support in another way! Think outside the box and consider a different type of challenge! Here are just a few suggested ideas you could use on your fundraising page:
Have a Virtual MINDWalk – If you can't make it to Burlington the day of the walk and still want to participate, consider walking the same distance in your own neighborhood at a different time.
Volunteer at the MINDWalk – If walking a distance isn't possible, consider helping out at one of the registration tables the day of the event.
Volunteer with NAMI Exhibit Tables – Pledge to help out with THREE NAMI Vermont exhibit tables around the state during the next year.
Pledge to have conversations – Pledge to talk to 10 different friends and neighbors and community members about mental health and NAMI Vermont services in the next year.
MINDWalk 2019 Kick-Off Event and Open House
Are you ready to WALK!?! If you plan on fundraising and walking with us in NAMI Vermont's MINDWalk this year, then we invite you to join us for our Kick-Off Event/NAMI Vermont Open House so we can help get you started on a successful fundraising journey!
Enjoy light refreshments as we give you a "tour" of NAMI Vermont and the work that we are doing this year. We'll share information about this year's MINDWalk event and how to register yourself and a team.
Then, you will have the opportunity to jump onto a computer and set up your own online fundraising page with staff on hand to help you through the process! That's right! We'll help you get your page up and running right there during this event!
We'll also share information, tips and handouts to help you recruit team members and ask for donations. We'll provide the tools needed to make this an awesome walk for everyone!
Please RSVP by clicking on the link below:

Wish to be a Sponsor for the 2019 MINDWalk?
This walking event is NAMI Vermont's biggest fundraising and outreach campaign of the year. With the help of our sponsors, we were able to raise over $39,000 to help us continue to provide free programs, classes, workshops and services to our community.
Please consider partnering with us for our 2019 MINDWalk at one of our sponsor levels.
As a walk sponsor, your organization will receive extensive recognition for your support, recognition that will show your employees, customers and the community that you are committed to improving the lives of people with mental illness.
If you would like to sponsor, either fill out the Sponsor Brochure and Form and return it with a check made out to NAMI Vermont or fill out an online form here:
You can also make an online payment through Paypal by clicking here. Be sure to specify in the notes that this is a sponsorship for NAMI Vermont's MINDWalk 2019.
Funds from our walkathon support the following:
17 support groups throughout the state
Educational trainings that include: 12-week intensive courses, one-day workshops, presentations and provider classes that focus on mental health recovery, management, treatment, and symptoms.
Advocacy to ensure a voice for peers and family members at the local, state and federal level to protect funding and ensure access to the right care at the right time in the right setting.
In Our Own Voice – an educational program in which two trained speakers share their compelling personal stories of living with mental illness and achieving recovery.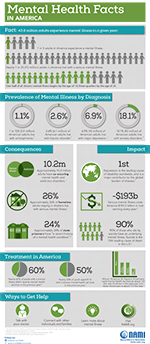 M.I.N.D. stands for Mental Illness Non-Discrimination. NAMI Vermont stands for families and individuals who need mental health care because it is health care, like any other kind of health care. We stand against mental health stigma in public policy, employment, and housing. We stand for all those who have faced hardship, crisis, death and loss at the hands of mental illness.
We stand (and we walk) for the hope of recovery and the courage of those to continue to strive for productive and meaningful lives with mental illness every day.
Please join us in giving a voice to the one in five members of the Vermont community that live with mental illness.
---