When:
May 16, 2019 @ 9:00 am – 4:00 pm
2019-05-16T09:00:00-04:00
2019-05-16T16:00:00-04:00
Where:
Capitol Plaza
State St. Montpelier
VT
Contact:
Catherine Diduk
802-254-6590

What is Zero Suicide?
Zero Suicide is a commitment to suicide prevention in health and mental health care systems. It involves the implementation of a set of evidence-based tools and strategies used in a strong pathway of care for people who are suicidal. When implemented effectively, Zero Suicide reduces suicide deaths.
This Institute is composed of two full days of teamwork and learning from national speakers and Vermont colleagues. It is designed to engage leadership teams who understand Zero Suicide at a deep practical level, and who promote and support the implementation in their own health systems in collaboration with state and community systems. The aim is to improve care and outcomes for individuals at risk of suicide in health care systems and to commit to the safety and support of clinical staff, who do the demanding work of treating and supporting suicidal patients.
Who Should Attend?
This two-day training aims to brings together mental health, health care, state, and local teams from the following groups to establish a common frame of reference, language and understanding of the use of tools for Screening, Assessment, Treatment and Follow-up. Teams will conclude the Institute steeped in an understanding of Zero Suicide, with knowledge about their organizations' capacity and readiness to implement the tools and processes, and with the ability to prioritize with their staff.
A team of three or more is suggested to attend from each organization. Participants could be:
• Senior position of clinical leadership who oversees policy and procedures
• Staff who oversees clinical training, and/or EHR
• Person who is enthusiastic about making suicide prevention changes in the organization
DAY ONE:  May 16, 2019
DAY TWO:  June 6, 2019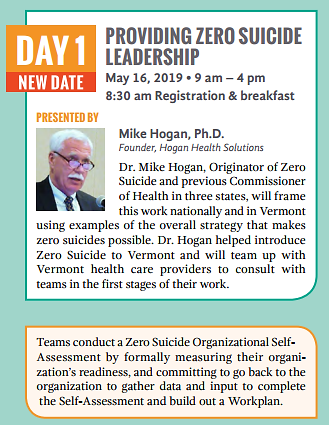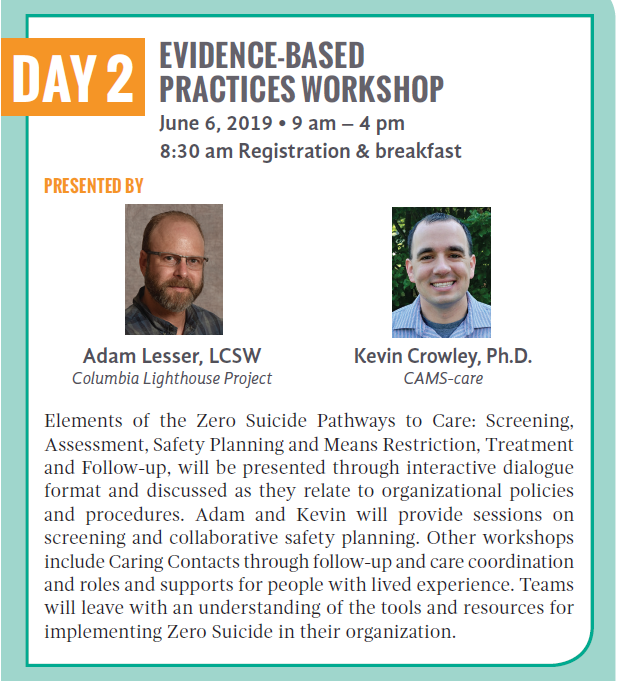 Cost
$199/ person
Includes two days of professional development, team time, breakfast, lunch, and all training materials.
REGISTER HERE